MINT
SERVICES
1/6 – Aggregators
Page Index
The aggregation landscape: Europeana and the European content aggregators' role
Aggregate is one of the four strategic tracks (aggregate, facilitate, distribute and engage) that underpins Europeana's future direction and business success. It is one of the means by which Europeana aims to guarantee:
Source content that represents the diversity of the European cultural heritage
Extend the network of aggregators
Improve the quality of metadata
A national aggregation initiative in every EU member state is Europeana's aim by 2015.
National initiatives and aggregators – Google Maps
The map below shows each of the European aggregators that collect data from local institutions to distribute the metadata directly to Europeana.
Show
National initiatives and aggregators
in a bigger map.
Aggregator
An aggregator in the context of Europeana is an organisation that collects metadata from a group of content providers and transmits them to Europeana.
Content provider
A content provider (or data provider) in the context of Europeana is any organisation that provides digital content accessible via Europeana. Europeana only ingests and indexes the institution's metadata, while the digital objects remain by the original institution.
A full list of Europeana's content providers is available at http://www.europeana.eu/portal/europeana-providers.html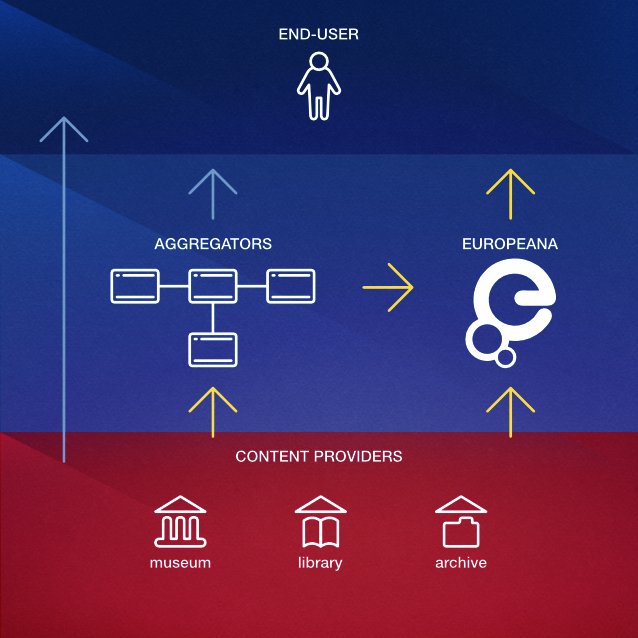 Aggregators: what are they?
Functions
Aggregators gather material from individual organisations, standardise formats and metadata, channeling them into Europeana according to Europeana guidelines and procedures.
Aggregators also support content providers with administration, operations and training (see: Linked Heritage Project Aggregator).
Roles and responsibilities
Further key roles that aggregators play in other fields are the following:
Disseminating the vision and the objectives of Europeana to their network of institutions in order to increase support for and involvement with Europeana
Providing valuable feedback about the issues and discussions from their field
Promoting and implementing standards farther along the content provision chain
Providing domain-specific expertise and skills to institutions and Europeana
Types of aggregators
Country Aggregators

Regional aggregator
National initiatives
National aggregator
CulturaItalia

Project Aggregators
Athena
Linked Heritage
Independent Organisations
Aggregators representation
DOMAIN
Cross
Aggregate data across domains e.g. Erfgoedplus.be
Single
Data from a single domain at regional, national or international levels e.g. Apenet Project
Thematic
e.g. Collections of Jewish culture project Judaica
GEOGRAPHIC
Regional or national
Data at a regional and national level can be either single domain, e.g. national library, or cross-domain, e.g. collectionstrust.org.uk
Pan-European
Represent a specific segment or sector of cultural heritage by aggregating data on a European level, e.g. TheEuropeanLibrary.org
National Aggregation Initiatives
Organisation(s) appointed by their Ministry to take on the role as aggregator in the country, and can be cross- or domain-specific. A cross-domain example is Hispana.mcu.es
Source:
Europeana. Aggregators and providers
.
Accessibility
An aggregator may or may not have a portal where the content is made accessible to the public. For instance, this is the case of the Italian national aggregator CulturaItalia.
If the aggregator's portal is not accessible to the public, it is referred to as a dark portal or a dark aggregator. For instance, this is the case of MINT, the aggregator used within the Linked Heritage project.
Europeana Network
"The Europeana Network is an open forum for experts across Europe, from content providers and aggregators to providers of technical, legal and strategic knowledge and the creative industries. This forum represents and reflects the diversity of Europeana and gives its members an opportunity to voice their views.
[ ... ]
Every individual that contributes data, technology or knowledge to Europeana is encouraged to join the Europeana Network. Thus, if you have a stake in Europeana, then please register for membership".
[See: Europeana Network].